Possibly the most annoying phrase in the English language is "Easy as pie".  No one who makes pies says this!  The truth is, pie can be tricky.  Pie crust requires a light touch to remain flaky and tender: over-handle it, and you'll have a adequate substitute for roofing tiles.  Sometimes you have to "blind-bake" the crust before adding the filling.  Pie fillings can be complex and difficult to construct.  Summer fruit pies require the very best and freshest of fruit in order to shine.   The person who can reliably whip out a delicious apple pie deserved applause, and that accomplishment should not be dismissed as "easy".  (You know what's easy? Brownies.  Brownies are really really hard to mess up.  Unless you're taking a spelling test.  In that case, "pie" is definitely easier. )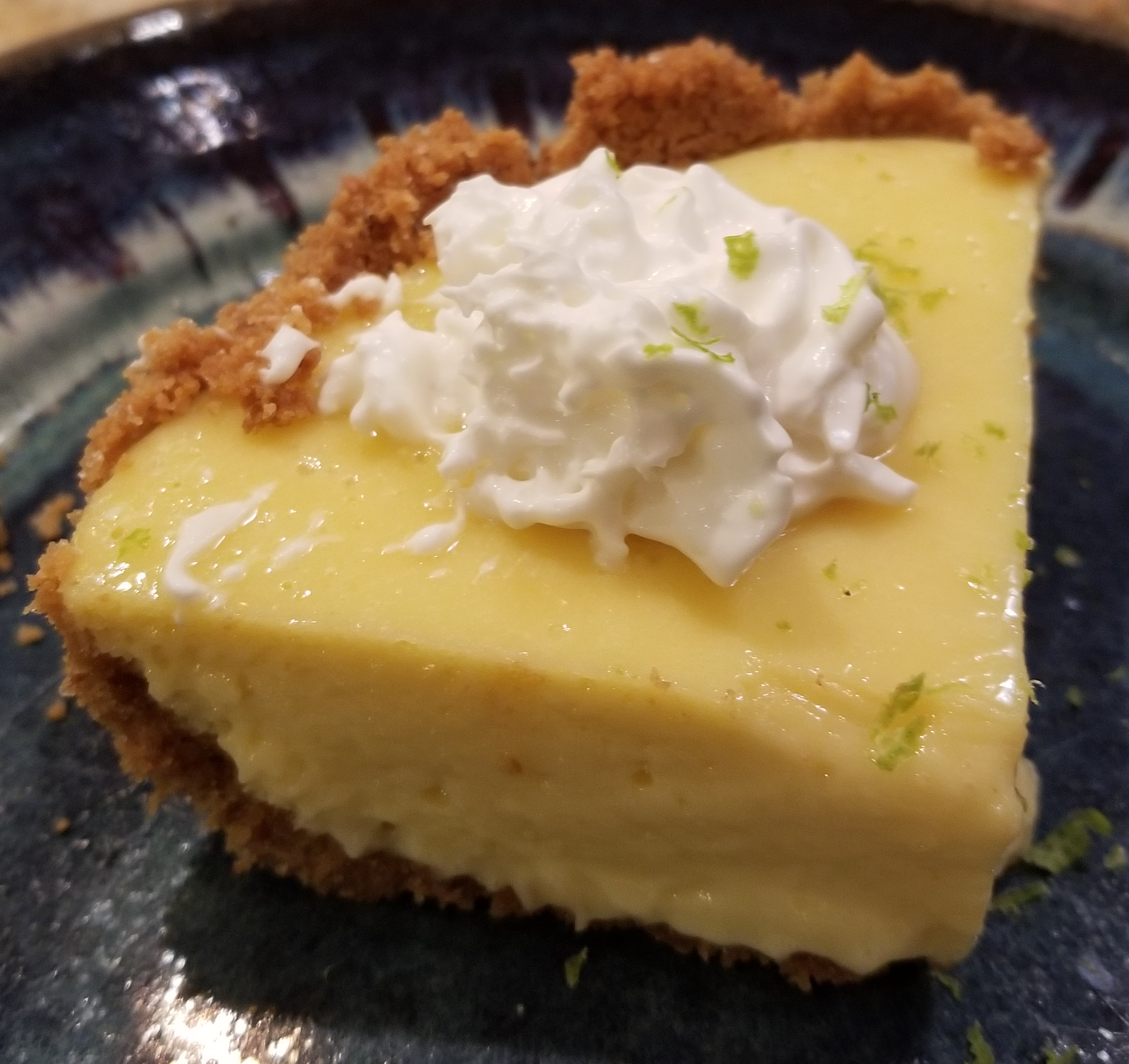 Imagine my surprise the other day when I happened upon a pie that is genuinely easy. The IT Guy is very fond of Key Lime Pie, and I'm very fond of the IT Guy, so I gave it a whirl. The crust is a simple Graham Cracker crumb crust.  The filling has only a few ingredients, all of which could be considered pantry staples.  I didn't even use a mixer, and it only took a few minutes to bake.   If you are looking for a treat that doesn't require much effort on your part, this could be it.  If you want to impress someone else, you are also entitled to delicately dab your brow when the pie is done, implying that you put in a long hot afternoon pulling it off.  Your secret is safe with me.
There's a lot of conflicting information out there about Key Limes.  They are definitely smaller than regular (aka "Persian") limes.  They are either more or less acidic than Persian limes, depending on which source you consult.  This may have something to do with ripeness.  They are harder to find in the grocery store, because they have a limited growing season in the US and don't ship well.  Because they are so small, it takes a lot of key limes to make Key Lime Pie.  The easy route is to buy a bottle of Key Lime Juice.  This is the brand I used.  
There's also a lot of conflicting information about what constitutes "authentic" Key Lime Pie.  After all, it is the official pie of the State of Florida, which I suppose gives it a lot to live up to?  My impression of Key Lime Pie, from having eaten it at least once or twice in restaurants is that it has a Graham Cracker crust, and is garnished with a simple dollop of whipped cream and sprinkling of lime zest.  The IT Guy concurs with me on this.  Others prefer a pastry crust and/or a meringue topping or a layer of whipped cream, or wedges of lime.... obviously, you can tart this one up to your heart's content.  Yes, I did do that on purpose.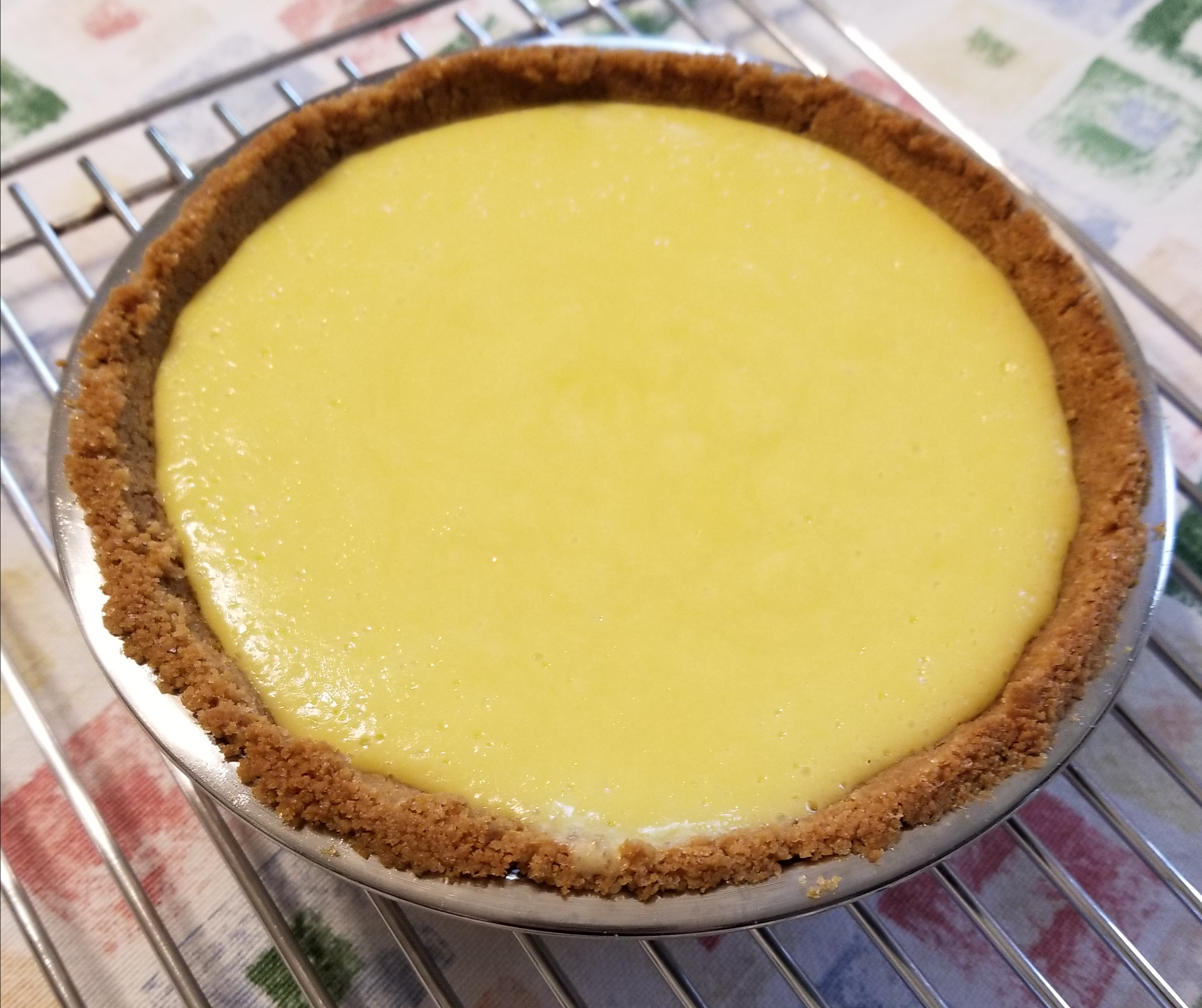 You may be surprised at the pictures, if you were expecting Key Lime Pie to be green.  It is not; it is a bright yellow, with most of the color coming from egg yolks.  Do not adjust your screen.  I think some bakeries add green food coloring to their Key Lime Pie, but I did not.  I wasn't confident I would get a color suggesting lime, as opposed to avocado or spinach.  Also, it seemed Less Easy.  
So here it is: the perfect pie for a lazy spring or summer afternoon.  Maybe you should put up the hammock.
Notes
This is a gluten-free recipe.  If you do not want a gluten-free pie, you can use regular graham crackers in place of the gluten-free graham crackers.  In this case, you may need more melted butter in the crust.  For more information about graham cracker crusts, see the notes here.
Most people would say that in order to call it "Key Lime Pie", you have to use authentic Key Lime juice.  However, I bet if you made the same pie with ordinary lime juice, it would still be delicious.  If you use a different brand of lime juice, and especially if you juice the limes yourself, taste the filling before putting it in the pie shell.  The filling should taste definitely tart, but not puckering.  
My only complaint with this recipe is that it uses exactly half of a can of sweetened condensed milk.  What are you supposed to do with the other half?  Well, if you Google "sweetened condensed milk", you'll find a lot of suggestions; both Carnation and Eagle have websites devoted to helping you with this problem.   Some of the recipes are only slightly more complicated than "lick it off a spoon".  I may give some of these a try in the weeks ahead:  stay tuned.
Inspiration
In order to make Key Lime Pie the way I remembered it, I started the filling from "Florida Key Lime Pie" in The Fannie Farmer Baking Book.  I added this to the same graham cracker crust I used for Lemon Meringue Pie a while back.  Sometimes I whip cream for a garnish, but this time it came right out of a can.