Here at Half-Size Bakes, there are certain holidays we always celebrate at home: New Year's Eve, Mother's Day, and Valentine's Day.  Even when restaurant dining was a regular part of our lives, we avoided restaurants on those days, which we thought of as the Bermuda Triangle of eating out.  Restaurants are ridiculously busy, the staff are harried, and menus are unreliable.   You walk into a favorite bistro in search of a juicy burger and end up with a prix fixe menu that leans heavily on mesclun and blistered grapes.  "Damn it," you think to yourself, "is it Mother's Day again?"
We've finally wised up to this game.  Better to eat out some other day, and stay safely at home on Valentine's Day.  Better to bake your own cake, dip your own strawberries, pour your own champagne, and celebrate in style.  And in comfort.  
I saw this pretty pink cake in a magazine a while back, and a lightbulb went off – just the thing for Valentine's Day at home!  It turns out that it's not another pretty patty pan; it's packed with strawberry flavor.  Perfect at this time of year, it's a lovely reminder that spring is coming and fresh berries will not be far behind.  
Happy Valentine's Day to you and the ones you love.
Notes
This is a gluten-free cake.  If you do not want a gluten-free cake, use cake flour instead of gluten-free flour and omit the xanthan gum.  
It's important to the texture of both the cake and filling to use seedless strawberry jam.  I used Smucker's.  
To decorate the cake, I drew a few freehand hearts on the top, using Wilton's Sparkle Gel.  Drawing is easier if the frosting is as smooth as possible.  I heated a metal spatula with hot tap water, dried it off, and used warm spatula to smooth the frosting.  A metal knife would work for this also.  
You could also decorate with a sprinkling of colored sugar, the initials of your one true love, and/or a few conversation hearts.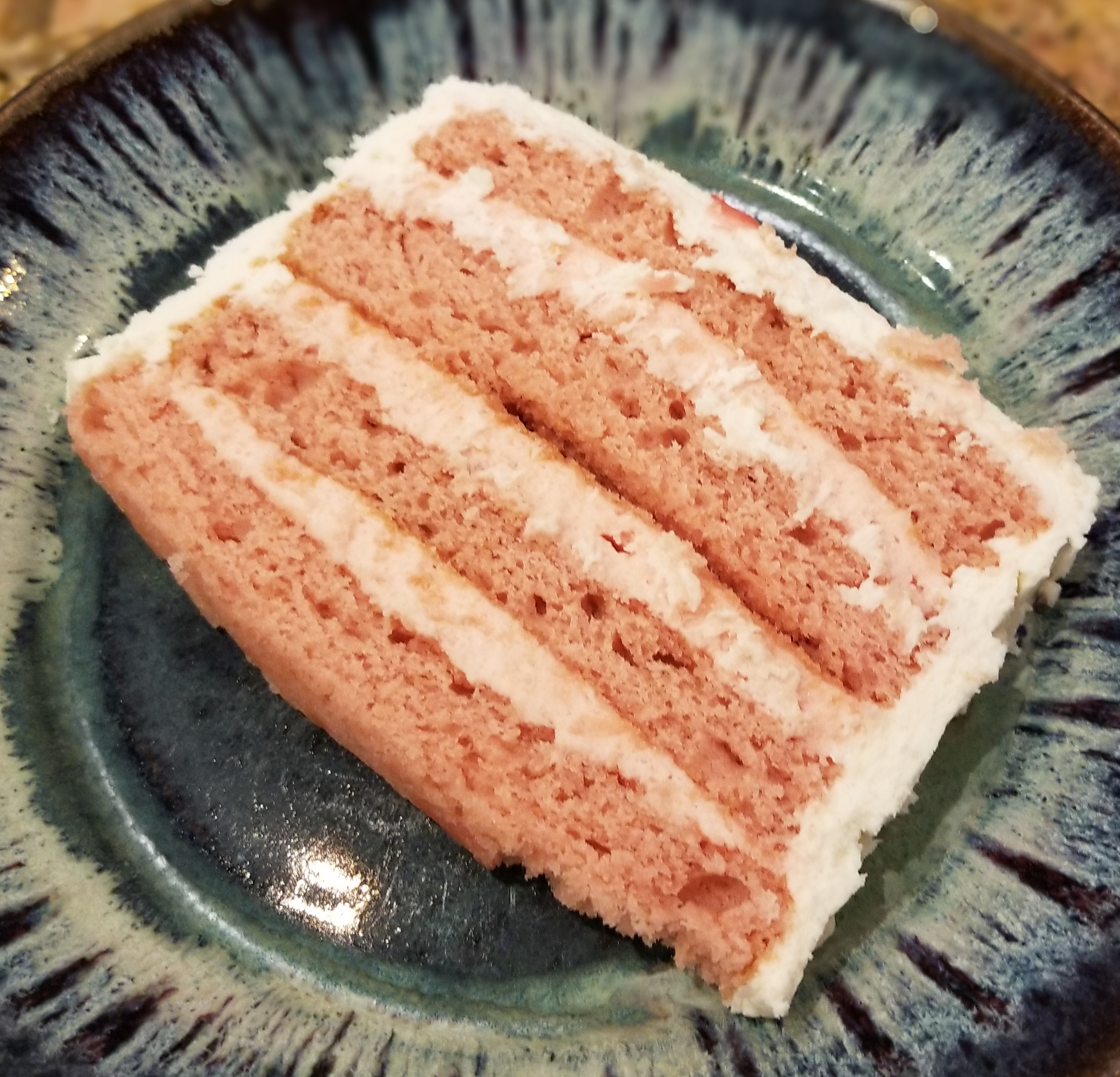 It's a truism of baking that we taste with our eyes as well as our tongues.  For this reason, I think it helps to use food coloring in this cake.  I used about 6 drops of gel food coloring in the cake, and two or three in the cream cheese icing.  
Inspiration
I started with the "Strawberry Jam Cakes" from the July/August 2012 issue of Tea Time magazine.  I made the recipe half-size and gluten-free, and changed the form factor to create a tall layer cake rather than the miniature cakelets in the original recipe.   The white frosting is "White Butter Icing" from Betty Crocker's Picture Cookbook (1950).  I might also consider a buttercream with a higher proportion of butter, such as this one from Sally's Baking Addiction (half of this recipe should be plenty, as well.)