It may be that no author in the English language has inspired such a long-standing and devoted following as Jane Austen.  She only wrote half a dozen novels, all portraying quiet scenes of everyday life in early 19th century society.  But each of those novels is written in prose so deceptively accessible but so exquisite, telling stories so beautifully plotted as to practically define what it means to be a novel, as to delight readers down through the centuries.  Jane Austen is more well-known and more admired now than she was 100 years ago, and vastly more so than in her own time.   Her popularity grows and grows, and every film adaptation is a box-office hit that inspires a whole new generation of fans.  It seems that only the death of the English language will see the end of Jane Austen's renown.
Among the Janeites (as her fans identify themselves), questions often arise about Jane's life, and speculation proliferates about how she would react to the 21st century.  Did Jane like to dance?  (Yes, she did.)  Did Jane enjoy afternoon tea?  (No, she did not.  Afternoon tea as a meal was not instituted until many years after her death.)  Was Jane a feminist?  (Opinions vary.)  
Did Jane like chocolate cookies?  No.  I haven't been able to figure out when chocolate was first used in baked goods, but probably no earlier than 1840 or so (i.e. many years after Jane's death).  In Jane Austen's day, chocolate was served only as a beverage – expensive, laborious to make (no Swiss Miss in those days!) and reserved for special occasions.  
Nevertheless, when I think of these chocolate cookies, I think of Jane.  Like Jane's prose, they are perfectly plain, and plainly perfect.  Like Jane's plots, their unassuming ingredients are brilliantly combined to a sublime ending.  And like Jane's novels, once sampled, you keep coming back for more.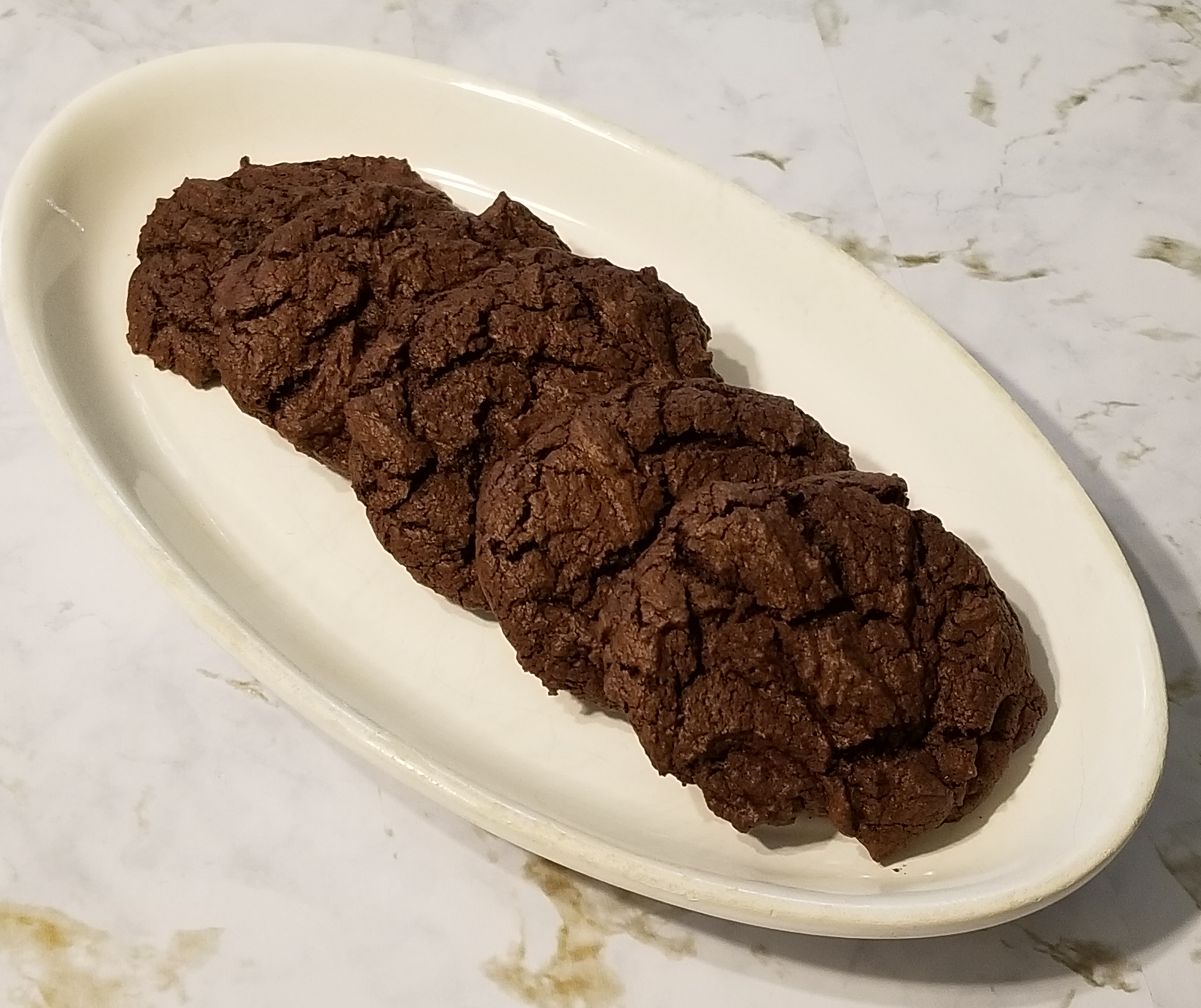 The first time I ate one of these cookies, I was less than impressed.  Only ordinary politeness prevented me from saying "I think this cookie is stale."  Then I took another bite. Before I realized it, I was on my second cookie.  I might have dunked it in my coffee.  It's hard to describe what's so great about these cookies, except that they are very very chocolaty,  and very addictive.  Enjoy them with coffee.  And a good book.  
Notes
This recipe is for gluten-free cookies.  If you do not want gluten-free cookies,  you can use all-purpose or bread flour in place of the gluten-free flour, and omit the xanthan gum.  
As written, the recipe makes fairly large cookies.  I use a dessert spoon to scoop out the cookie dough.  You can make smaller, and arguably more elegant cookies, but you will have to adjust the baking time.  And really, this might be a case where bigger is better.  
As well as being wonderful to eat, and the perfect complement to coffee, tea, ice cream, or a glass of cold milk, these cookies also make a wonderful cookie crust.  If you have ever made a cookie crust from Oreos or plain chocolate cookies from the store, I promise you....this one is better.  
Inspiration
These cookies are my version of "Deep Dark Chocolate Fudge Cookies" from Death by Chocolate.  I didn't do much to the recipe, because it was already perfect.  Just downsized it (my version is about 1/3 the original amount), and made it gluten-free.