In Spring, as the poet says, a baker's fancy lightly turns to thoughts of strawberries.  Here in the Carolinas, every farm stand is boasting of strawberries, and I am powerless to resist.  Why would I even want to?  What could be better than freshly-picked strawberries, still warm from the field?  In Heaven, the air probably smells like that.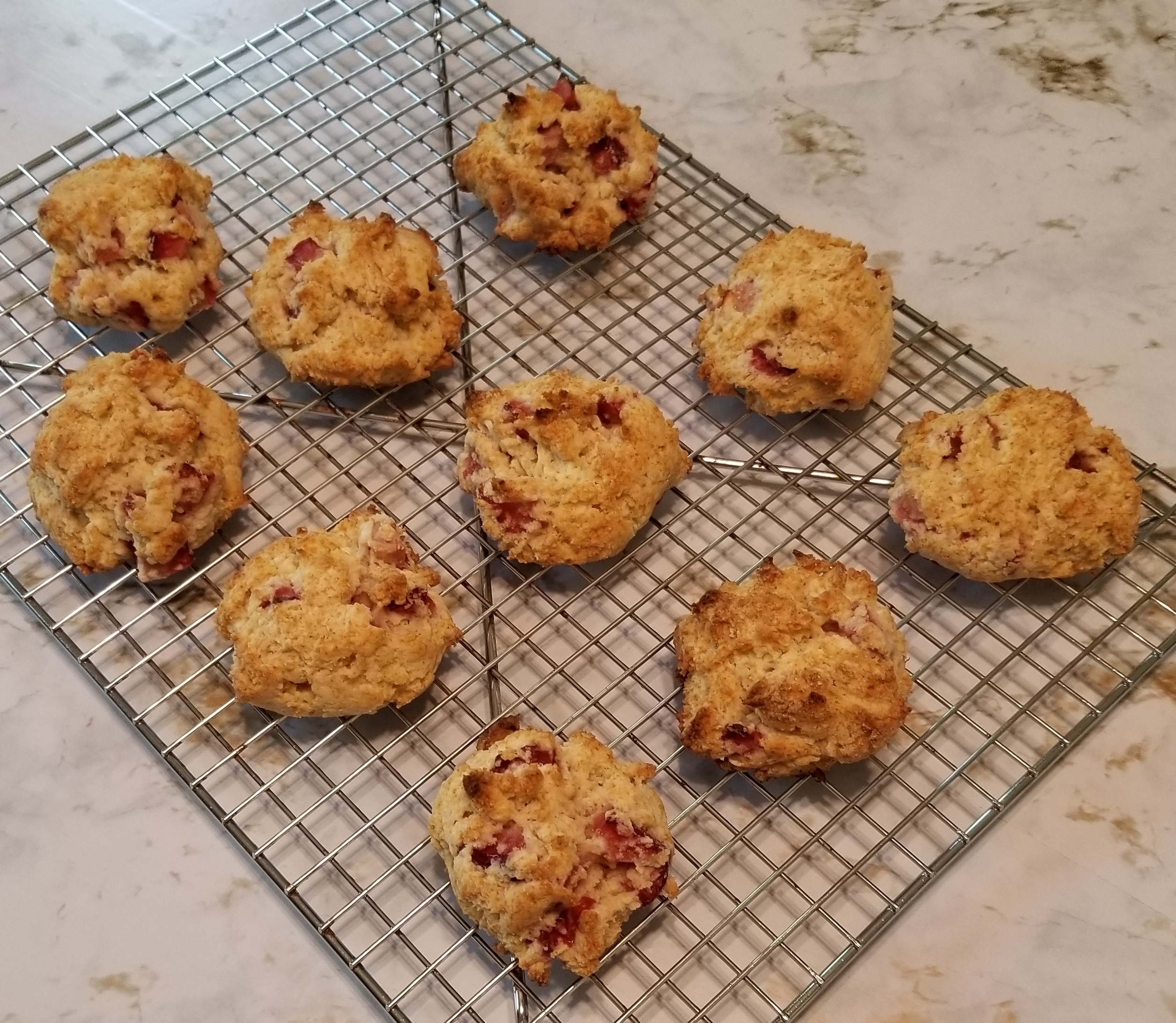 The downside (!) of having no sales resistance is that occasionally there is a surfeit of strawberries around here.  And that, Dear Reader, is why I was so excited to see a recipe called "Strawberry Drop Biscuits".    This is very likely one of the easiest recipes I have ever made, but despite what my grandfather used to tell me, hard work does not always equate to satisfaction.  Although very very easy to produce, these biscuits are wonderful.  
The biscuits themselves are lightly sweet, and they are liberally studded with chopped fresh strawberries.  I thought this would have something of the effect of strawberry jam baked into the biscuit, but somehow it's better than that.  The Resident Food Critic said "I don't normally care for fruit in my bread, but this is wonderful."  
The first batch of biscuits I made, I followed the recipe exactly as to size.  I was not very awake at the time, so I was following along on auto-pilot.  I don't know why, but I was surprised to discover how large they were when I pulled them out of the oven.  I mean, what did I expect?  As it turns out, the original recipe made something like what (around here, at least) are called "Cat Head Biscuits".   Because each biscuit is the size of a cat's head, that's why.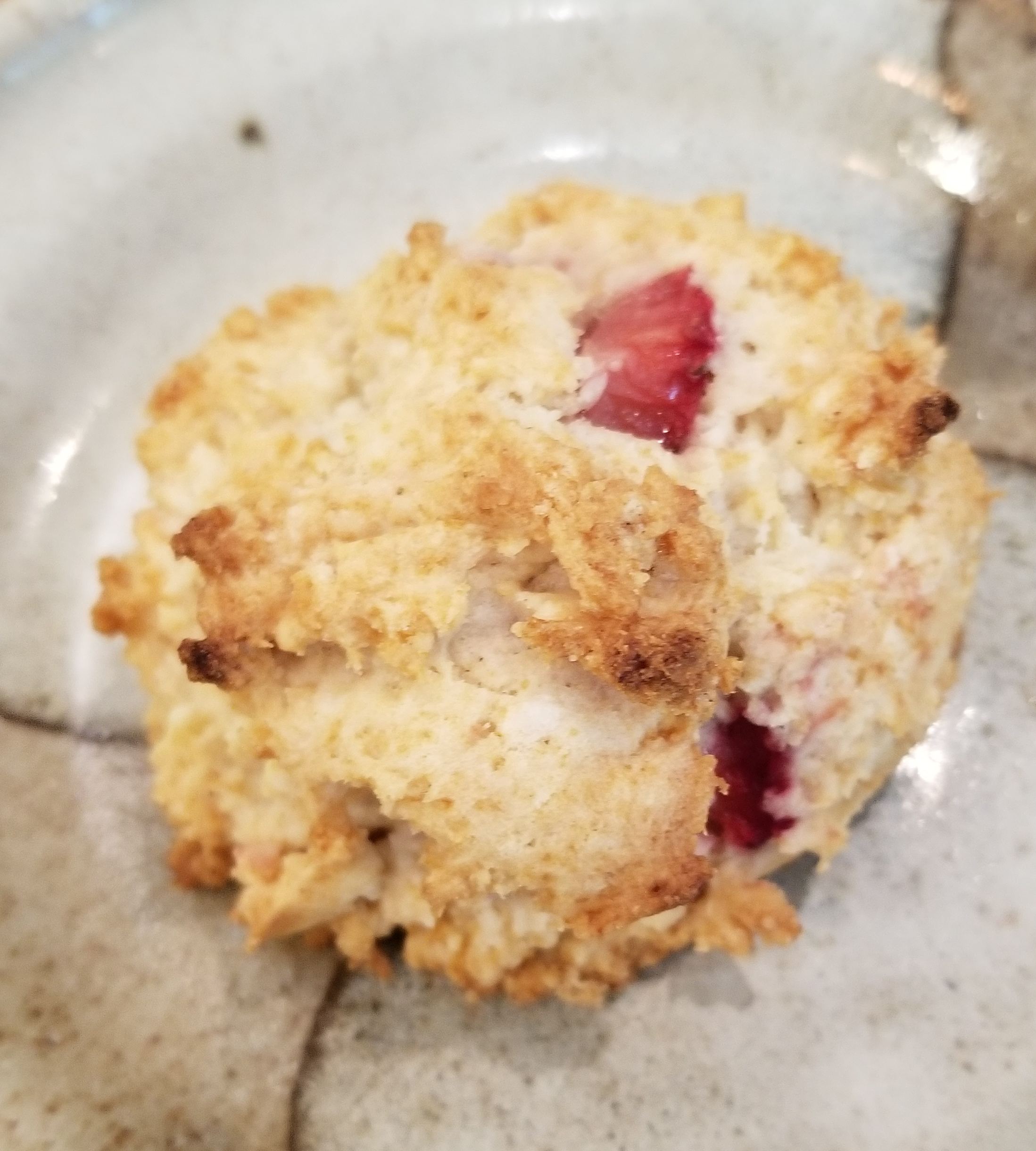 I can attest that a single biscuit of this size makes a hearty breakfast.   I can also attest that you can make these biscuits in a more –  ahem – normal size, and they are very satisfactory also.  In fact, if you are planning to serve them for anything other than breakfast (snack, afternoon tea, etc) you'll probably be much happier with a smaller size.  
Oh, Spring.  Will I ever get tired of strawberries?  I hope not!
Notes
This recipe makes gluten-free biscuits.  If you do not want gluten-free biscuits, you can replace the gluten-free flour with all-purpose flour or whole wheat pastry flour, and omit the xanthan gum.  
You can replace the strawberries with an equal amount of fresh blueberries or raspberries.  I don't recommend using frozen fruit in this recipe, as it tends to seep a bit of liquid that messes up the texture of the biscuit.  
The original recipe called for starting with cold butter, cutting it into cubes, and then trying to use a pastry cutter to work the butter in.  As noted elsewhere, I don't mess with that any more.
The original recipe also suggested brushing the biscuits with additional cream before baking, and frosting the biscuits after baking.  Hey, follow your heart and all that, but I think these steps are unnecessary.  Especially for breakfast, I prefer the lightly-sweet to the very-sweet, and it doesn't seem to me that brushing cream on biscuits (or scones) has much effect at all.  
Inspiration
The original recipe came from the New York Times cooking site.  As originally written, the recipe made a great many, very very large, biscuits.  I first half-sized and simplified the recipe, and then downsized the biscuits themselves, and finally made them gluten-free.