When The Resident Food Critic was about 8 years old, I took her out to a "fancy" restaurant that served afternoon teas. She was absolutely enchanted:  the waiter brought her her very own pot of tea, showed her how to dissolve a sugar cube in her cup, and produced a basket of chocolate chip mini-scones.  And a love affair was born.  
The Resident Food Critic feels about chocolate chips the way I feel about blueberries: they make nearly everything better.  She waxed poetic about the chocolate chip scones for months.  Actually, she will still talk about them, given half a chance.  So one day I pulled out a cookbook and started improvising.  Turns out everyone at Half-Size Haven loves these.  
I'm a big fan of scones myself.  I've made many different flavors, sizes, and shapes.  But the staff here considers tiny wedge-shaped chocolate chip scones to be the pinnacle of baked goods.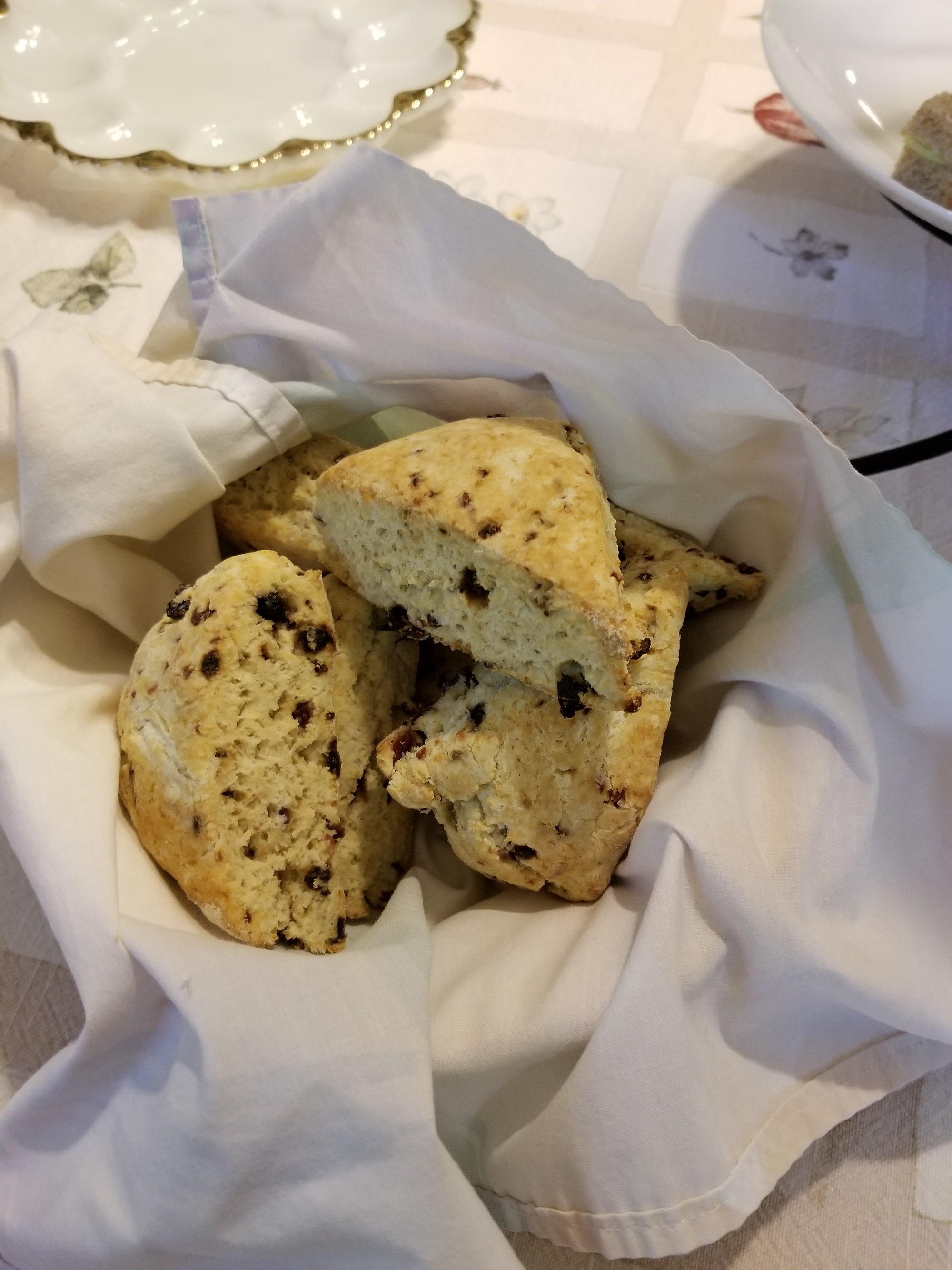 Why, then, a Half-Sized version?  Like muffins, scones are really at their peak when they come out of the oven.  That fancy tea restaurant?  They would seat you and take your order and bring out the first pot of tea before they even started making your scones, because they should be steaming gently when you start eating them.  Once cold, a scone becomes stodgy and charmless.  Also like muffins, if you've only had the coffee-shop version, you should really try homemade.  
It's important to use miniature chocolate chips in this recipe: the scones themselves are quite small, and regular chocolate chips will be too lumpy and cause the scones to fall apart.  If you only have regular chocolate chips available, chop them finely before stirring them in.  Similarly, if you choose to substitute something else for the chocolate chips, be sure to chop it quite small.  
Notes
This recipe is gluten-free.  If you do not want a gluten-free version, you can use regular or bread flour, and omit the xanthan gum.  
The Office Manager here at Half-Size Haven would like to register a protest.  A quiet voice amid the chocolate lovers, she prefers scones with dried fruit.  This recipe can also be made with a quarter cup of chopped dried fruit, such as Mariani brand "Berries n' Cherries" or sweetened dried cranberries.  
In fact, almost any flavor combo works nicely in this recipe:  candied ginger and white chocolate; white chocolate and cinnamon; orange zest and currants; bacon and cheddar cheese.  I haven't tried gorgonzola and pecans yet, but it's only a matter of time.
Inspiration
My scone improvisations start with the "Cream Scones" recipe from The Fannie Farmer Cookbook (1990).  I haven't messed with the recipe very much: just down-sized it, made it gluten-free, and added chocolate chips.  It was an excellent recipe to begin with, which makes it a great canvas for experimentation.