Part of the Pandemic Baking Adventure for me has been about trying new things.  Back in former days, I would think about trying a new recipe, but I was busy with a lot of other things and just didn't have the mental energy to experiment ... so my baking mostly revolved around the tried-and-true recipes I already knew.   These days, with the choice of a) baking something or b) alphabetizing the closet, I'm far more inclined to try something new.  Or take something fundamentally simple and tart it up beyond all recognition.  That, Dear Readers, is the story behind today's recipe.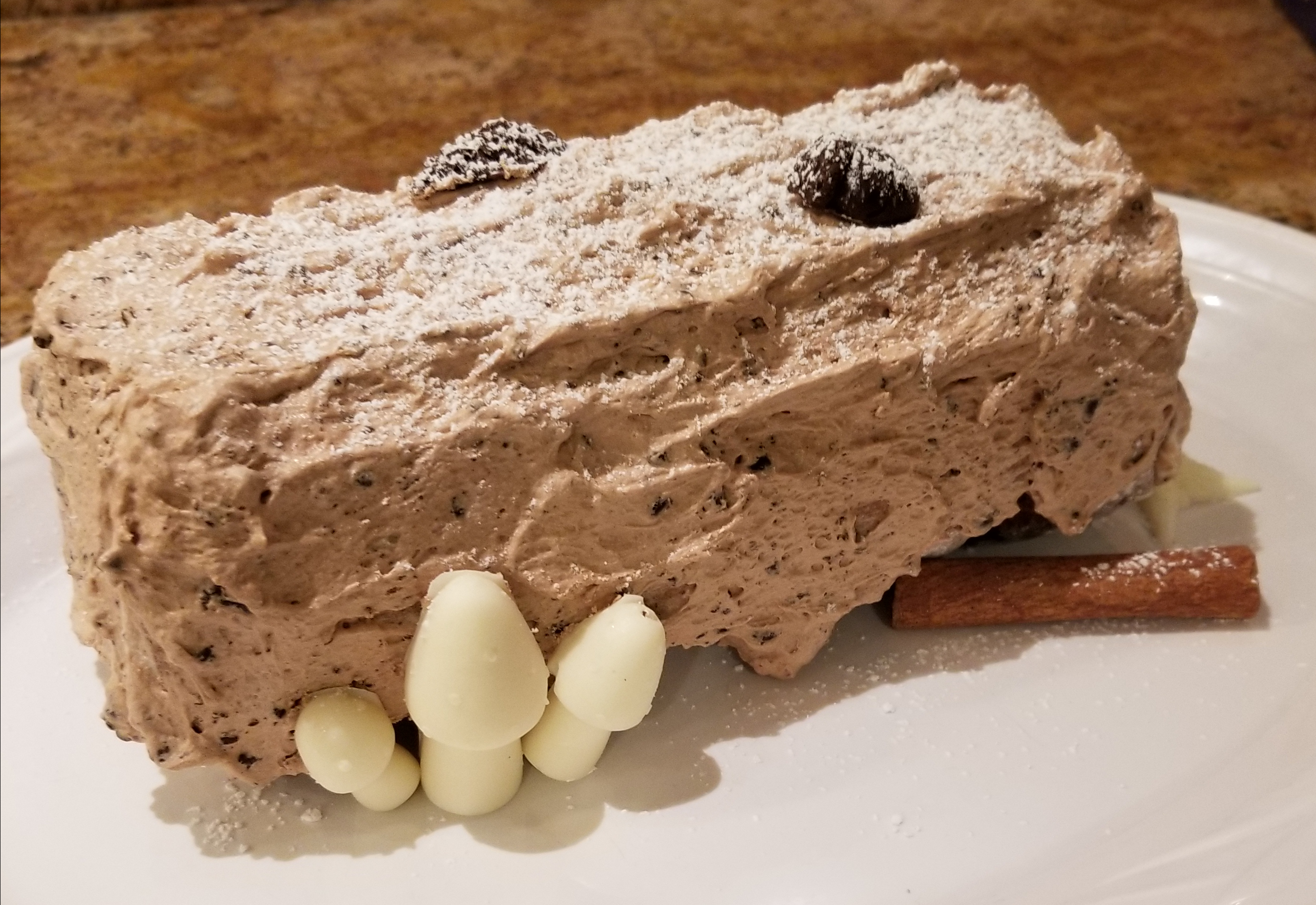 A Yule Log (or Buche de Noel, if you want to be fancy), is chocolate roulade decorated to resemble a log.  In France and many French-influenced countries, it's a traditional dessert at Christmas.  I don't speak French; I suppose Buche de Noel roughly translates to "Christmas stick".  I tend to serve pie at Christmas, so I'm putting a buche in the ground here and declaring that this is appropriate all winter long, or indeed at any other time you happen to feel like it.  
The general idea of a Yule Log is pretty simple: bake a chocolate sponge cake in a sheet pan, spread it with whipped cream, roll it up and frost it.  Naturally, this makes it a great jumping-off point for all sorts of variations:  Black Forest Yule Log, Tiramisu Yule Log .... the list goes on.  
Such a cake can be very simple, but I opted for more complex.  I infused the cream with warm spices prior to whipping, and added a complicated mocha buttercream.  One of the ways to make a Yule Log look more realistic is to cut off one end at an angle, and re-attach it to the side as a branch.   Unfortunately, a half-size Yule Log does not really have a lot of length to spare.  So instead, I left the Log straight, and decorated it with mushrooms and acorns molded out of chocolate, in the hopes of conveying that woodland theme. If you are the decorating sort, you can really go to town on this one.   See here and here for some beautiful decorations.  
If your tastes (and ambition) run more toward simplicity, see the notes below for a number of ways to simplify this recipe.
Notes
This is a gluten-free cake.  If you do not want a gluten-free cake, replace the gluten-free flour with cake flour, and omit the xanthan gum.  
To make molded mushrooms and acorns, I used these melting wafers and this silicone mold set.
Three of the four tasters described the amount of spice in the whipped cream filling as "a nice hint".  One, however, thought the spice flavor was overwhelming.  If you consider yourself particularly sensitive, you might want to halve the amount of spices.  
As mentioned above, this recipe, although not difficult, is fairly complex.  It's a great way to fill up a weekend, if you happen to have nothing better to do.  If you do, however, have a life and don't want to devote the entirety of it to this cake, here are some suggestions for simplifying:
The single most time-consuming element is the buttercream.  I used it because the flavor and texture are truly sublime.  But you could use any chocolate frosting, such as this one, or this one, or indeed one from a can.  I won't tell.
You can leave the frosting off entirely, and just dust the bare cake with a little confectioners' sugar to suggest snow.   This is very pretty, and if you want to get fancy, you can drizzle the individual servings with chocolate sauce.  
It's fine to use a plain whipped cream filling rather than the spiced version I suggest.  Just skip the steeping step, and whip the cream as directed.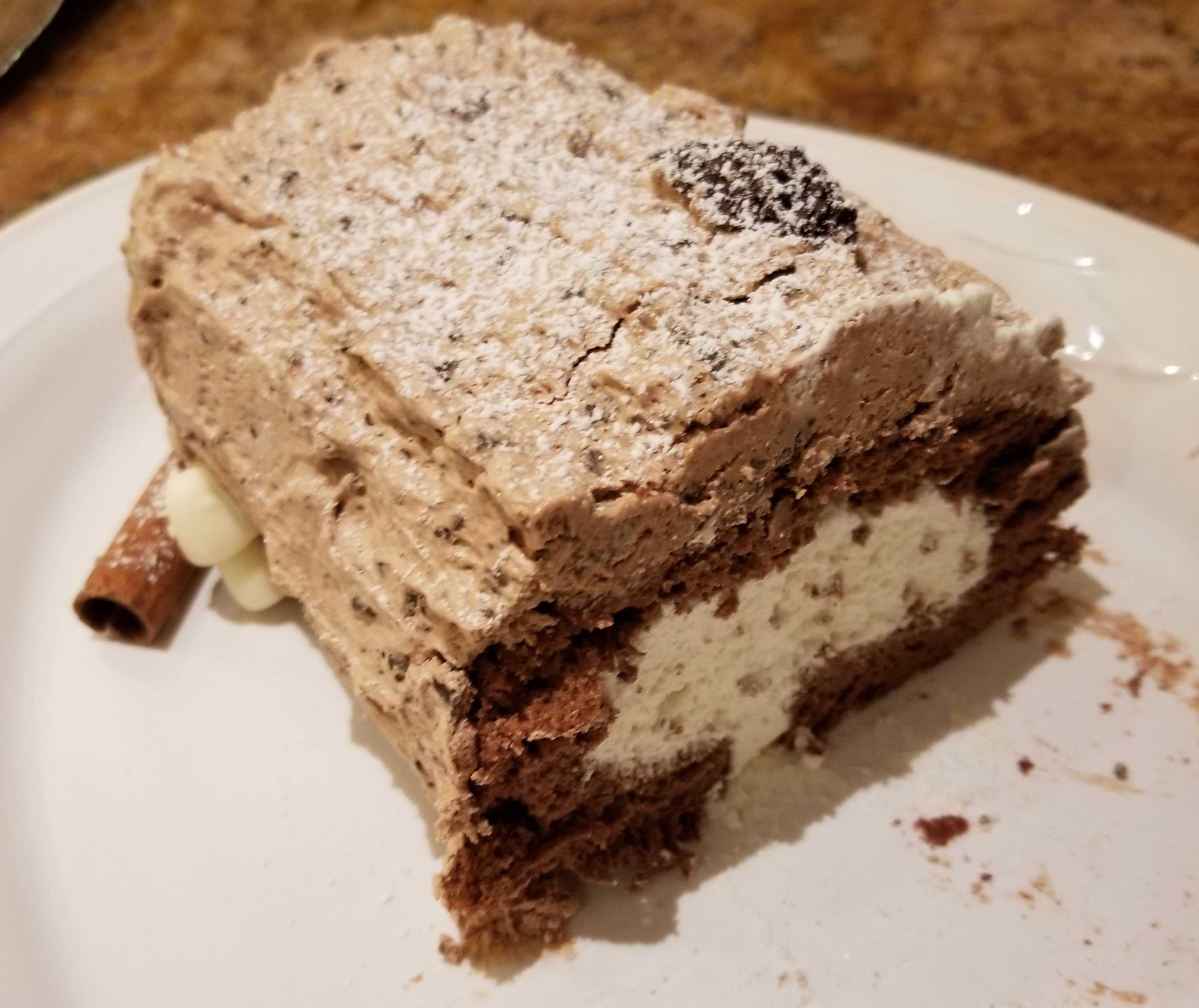 Inspiration
I originally decided to make a Yule Log after watching endless episodes of The Great British Baking Show, where such things are frequently featured.  Putting the elements together and imagining how flavors would play against each other was a fun mental challenge.  
For the sponge cake, I started with the "Chocolate Roll" from The Fannie Farmer Baking Book, but made it gluten-free and half-sized.  The frosting a much-downsized version of the "Chocolate Espresso Buttercream" that is one of the components in "Chocolate Espresso Fudge Cake" in Death by Chocolate. To make the flavored whipped cream filling, I read a number of online sources: this one was really helpful.