Pairing:  Two things, people, or organizations that work together – Cambridge English Dictionary
I have written before about flavor combinations: there are many I find irresistible, but top of my list is raspberry paired with white chocolate.  This can take many forms:  raspberry sorbet swirled with white chocolate frozen yogurt; raspberry mousse and white chocolate cake; a bowl of raspberries with a white chocolate bar on the side.  They're all wonderful.  I'm not a big fan of the Cheesecake Factory (I can hear the Resident Food Critic whimpering in the background), but I would sometimes give in and order a slice of their White Chocolate Raspberry Truffle cheesecake.  It was an occasional, decadent treat.  And, you know, about twice as much as I wanted.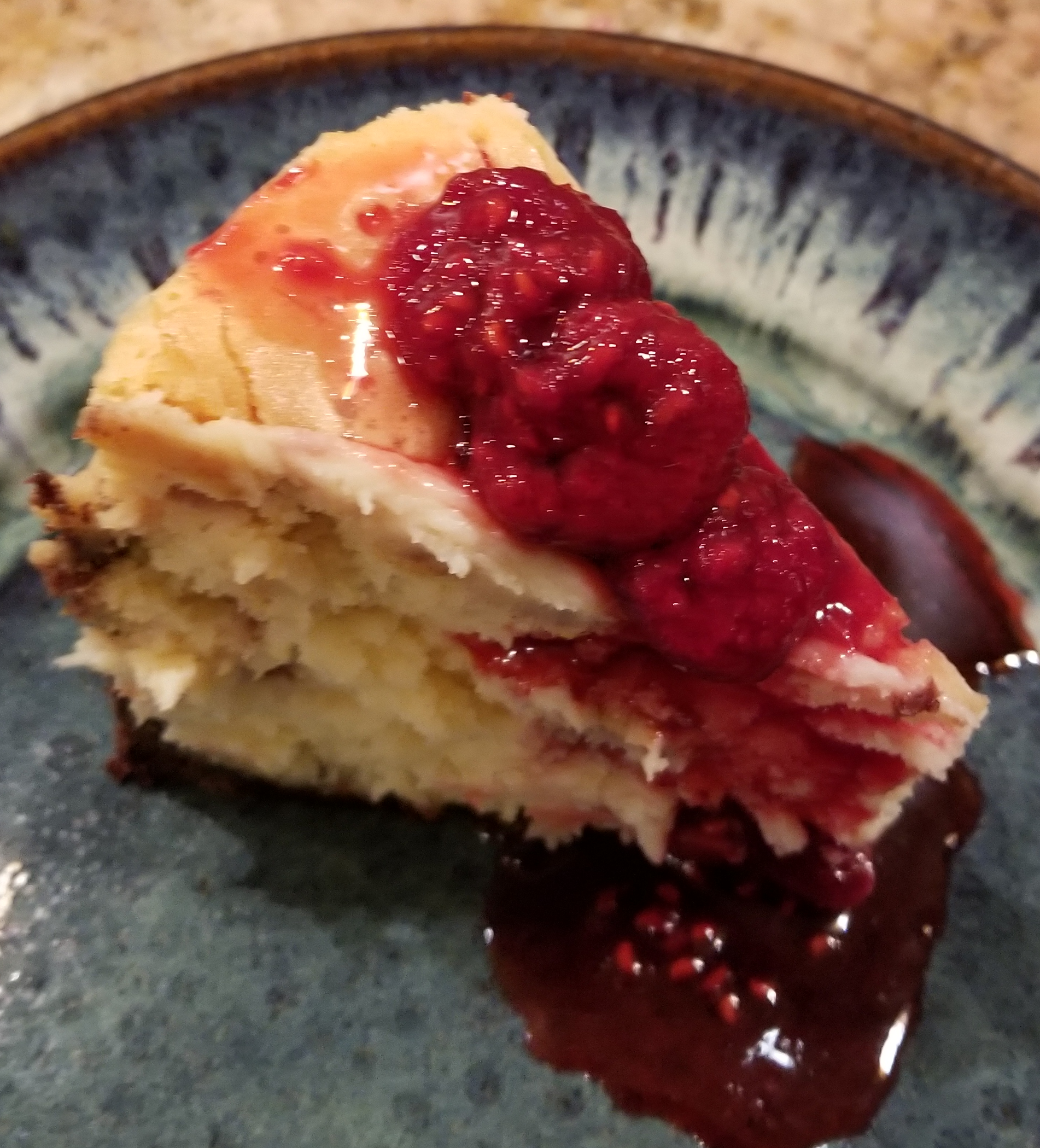 Here, then, is a modest white chocolate cheesecake with a raspberry swirl.  It's not a "copycat recipe" for the Cheesecake Factory one: if that is what you are looking for, a quick search will turn up several versions, and they all look delicious.  This is more "inspired by" than "copycat".  I have a recipe for white chocolate cheesecake that I've enjoyed for years, so it seemed like adding a raspberry swirl could only make it better.  
I have to confess that this recipe is not yet perfect.  The raspberry swirl has a tendency to sink toward the bottom of the cheesecake as it bakes, so the distribution of raspberry and cake is not what I was hoping.  Someday, I'll tackle that problem, and maybe come up with an improved version.  But there's only so much cheesecake even a dedicated staff can consume, and I started down this road hoping to avoid throwing away so much dessert ... so the revised recipe will have to wait.  Meanwhile,  I wanted to share this one.   Because despite its cosmetic flaws, it's very very good.  Really good.  Quite tasty.  A yummy indulgence, guaranteed to brighten your darkest day.  
Notes
For this recipe, you need a 6-inch pan with removable bottom (preferably springform), with sides that are at least 3 inches high.  Measure the height of the pan.  If it is less than 3 inches, create an aluminum foil collar around the pan to give it  more height.  Otherwise, your cheesecake will overflow the pan.  
The recipe for the cookie crust can be found here.  You will need about 1/3 of the recipe (4 cookies, if you made 12) for your crust.  If your cookies were a different size, that's fine.  Just count out about a third of however many you made, or weight out about 4 ounces.  
This cheesecake is not at all difficult to make, but it does take time.  Not only do you have to make cookies for the crust, but the cheesecake achieves its incredibly smooth moist texture through long, slow baking followed by a long, slow cooling.  After all that, it needs to chill overnight before serving.  None of this requires much attention, but you do have to spend most of a day hanging around the kitchen, tending the oven.  You can make the cookies several days ahead of time (they actually crumble better if they're not freshly-baked), and then prep, bake, and cool the cheesecake on a day when you plan to be around the house.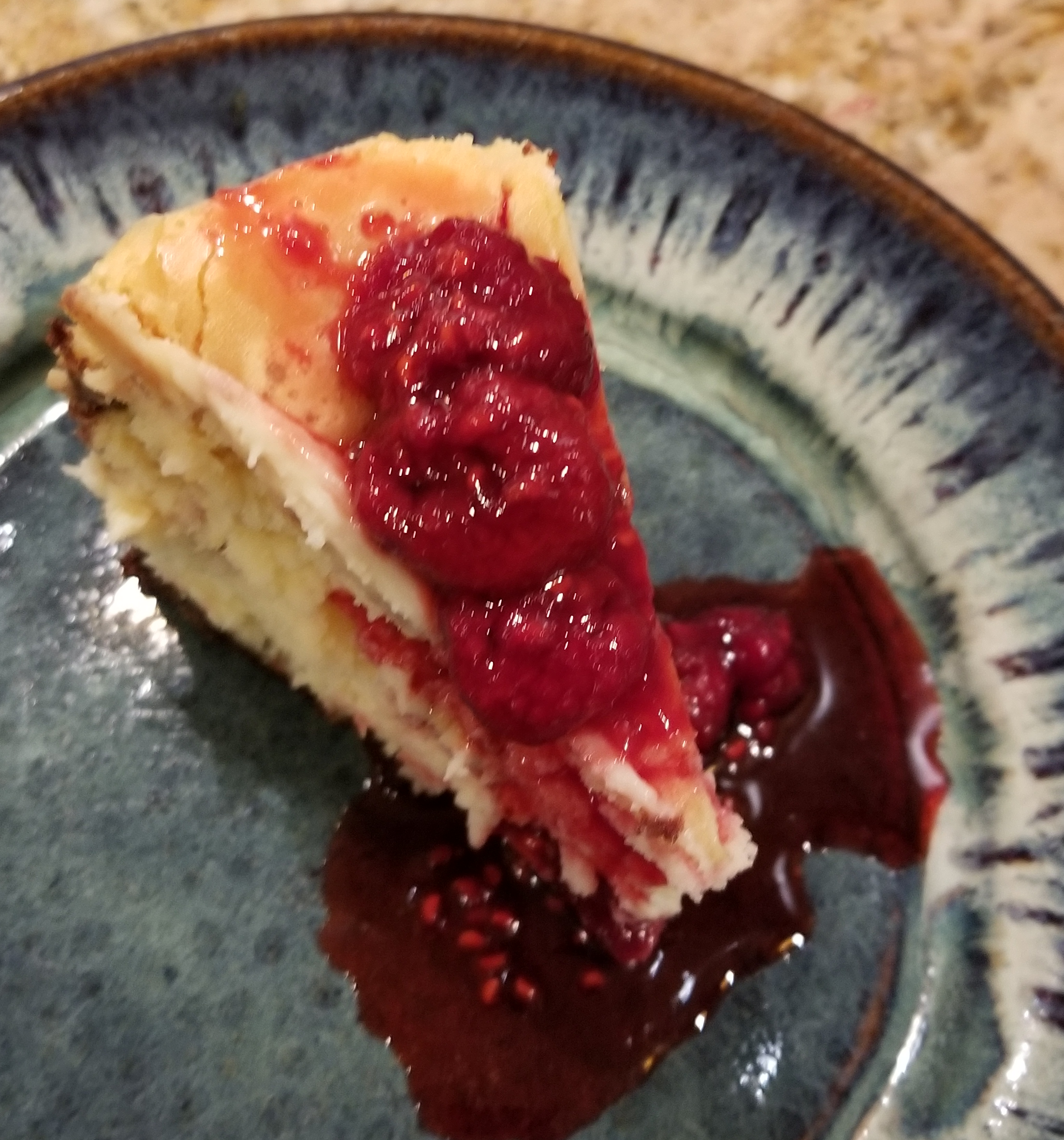 There are a few key points to making a cheesecake with a great texture that doesn't crack. You want to beat the cream cheese and sugar really thoroughly.  Then, when you add the eggs, beat just enough to incorporate.  (This was news to me....until I learned to make cheesecake, I didn't think it was possible to over-beat eggs in a cake.)  Finally, the pan of water in the bottom of the oven creates steam, keeping the cheesecake moist, which discourages cracking.  And a final word of advice:  a beautifully smooth, uncracked top is considered desirable.  But even a cheesecake with a crack tastes wonderful.  And if you cover the top with whipped cream, no one will ever know.  
Inspiration
This cake was inspired by "White Chocolate Cheesecake" in Death by Chocolate.  It is an absolutely marvelous dessert, like pretty much everything else in the book.   I first tasted it 20 years ago or more, and it kind of ruined all the other cheesecake in the world for me. It's simply the best.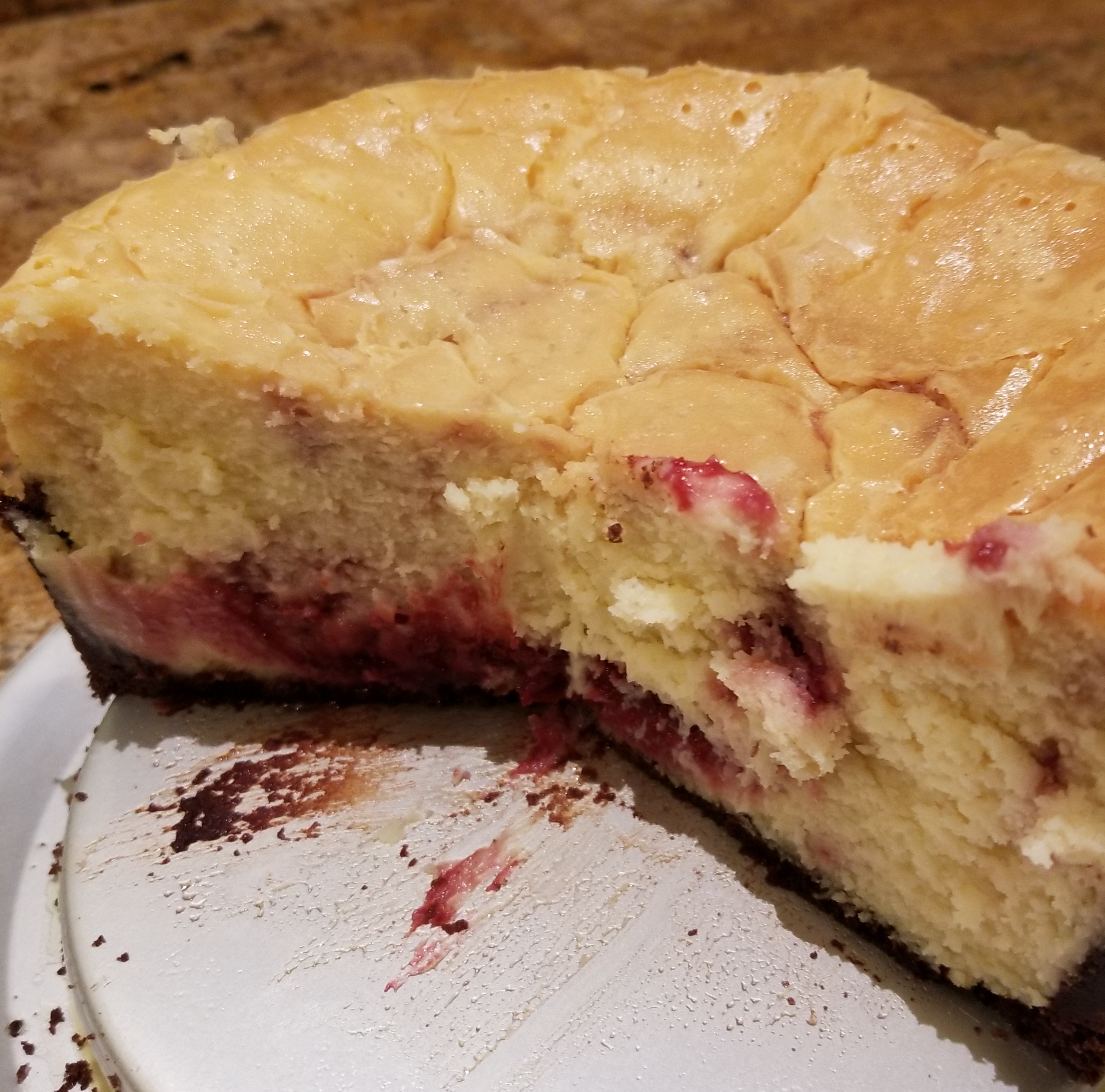 My modifications were minor.  The cheesecake itself was already flour-free and gluten-free.   I adapted the crust to be gluten-free, half-sized the recipe, and added a swirl of raspberry puree.  I also left off the chocolate icing, as I didn't want it to compete with the raspberry flavor.