It's a truism in life that not everyone can be in the limelight all the time, and the same thing is true of foods.  In composing a meal, it's a good idea to think about one or two dishes that will be stars of the show, and then surround those stars with a good supporting cast.  
Recently I was planning a classic Carolina barbecue dinner: smoked pork, creamed spinach and ... seemed like I needed another supporting cast member.   A common side with barbecue is hushpuppies, but I didn't really want the bother of deep-frying, and the timing of hushpuppies can be tricky as they are only good when piping hot.  One of my favorite barbecue restaurants serves hushpuppies with a jalapeno butter that is absolutely delicious, and that got me thinking about what else might fill that role.  And that's when I thought of these corn muffins.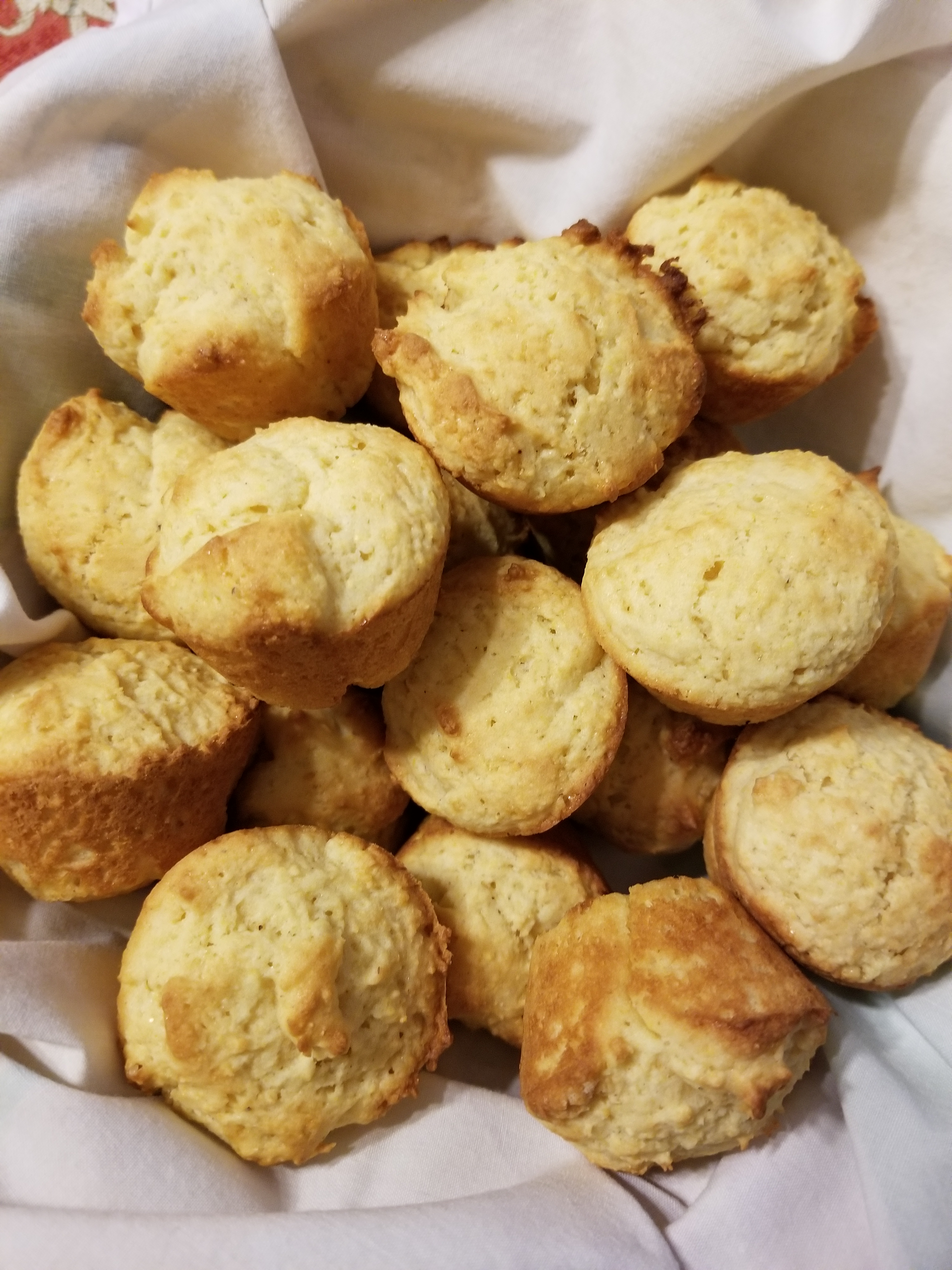 Corn muffins are a great supporting dish.  They are quick to make and quick to bake.  They will happily sit around for a while before being popped in the oven.  They stand up well to strongly-flavored foods.  And they go great with jalapeno butter.  
In order to have a bread somewhat like a hushpuppy in size, I made these as  miniature muffins, for which you need a "gem pan".   You actually need two gem pans, unless you want to make these in two batches.   The rule of thumb is that 1 regular muffin is about 3 gems, so you can also mix and match:  6 regular muffins, 18 gems, 12 gems + 2 regular muffins ... you get the idea.  Or you can forego the math entirely and put the batter into a 6-inch round pan, which you cut into wedges to serve.  But trust me, gems are more fun.
Notes:
This recipe is for gluten-free muffins.  If you do not want gluten-free muffins, you can use all-purpose wheat flour (or bread flour), and omit the xanthan gum.
These muffins take nicely to various additions.  My favorites are:  1/4 C grated cheese (Cheddar, Jack, and Asaigo are all good), or 1 to 2 T chopped green chilies, or both.  
The amount of jalapeno butter in this recipe is probably more than you need for the muffins.  But if you are the kind of person who likes jalapeno butter, I trust you to find other uses for it.  
Inspiration:
The base recipe for these muffins is the "Corn Bread" recipe from The Fannie Farmer Cookbook.    Half-sizing the recipe took a little thought, because the original recipe called for 1 egg.  I suppose it's possible to beat an egg and then measure out half of it, but that seemed awfully fussy.  Besides, what do you do with the other half?  Make the world's smallest serving of scrambled eggs?  That didn't seem right. Instead, I worked out how to adjust the other ingredients to accommodate a whole egg in a half-size recipe.  
The original recipe was baked in a square cake pan.  In addition to half-sizing it and making it gluten-free, I also started making muffins and then mini-muffins.  I love cornbread, but it tends to be crumbly.   I find muffins easier to serve and eat.