The rest of the country is eagerly awaiting the return of the PSL (that's Pumpkin Spice Latte, if you've been living under a rock).  But here at Half-Size Haven I keep hearing "Isn't it about time for some pumpkin muffins?"  The fact is, pumpkins and fall just seem to go together.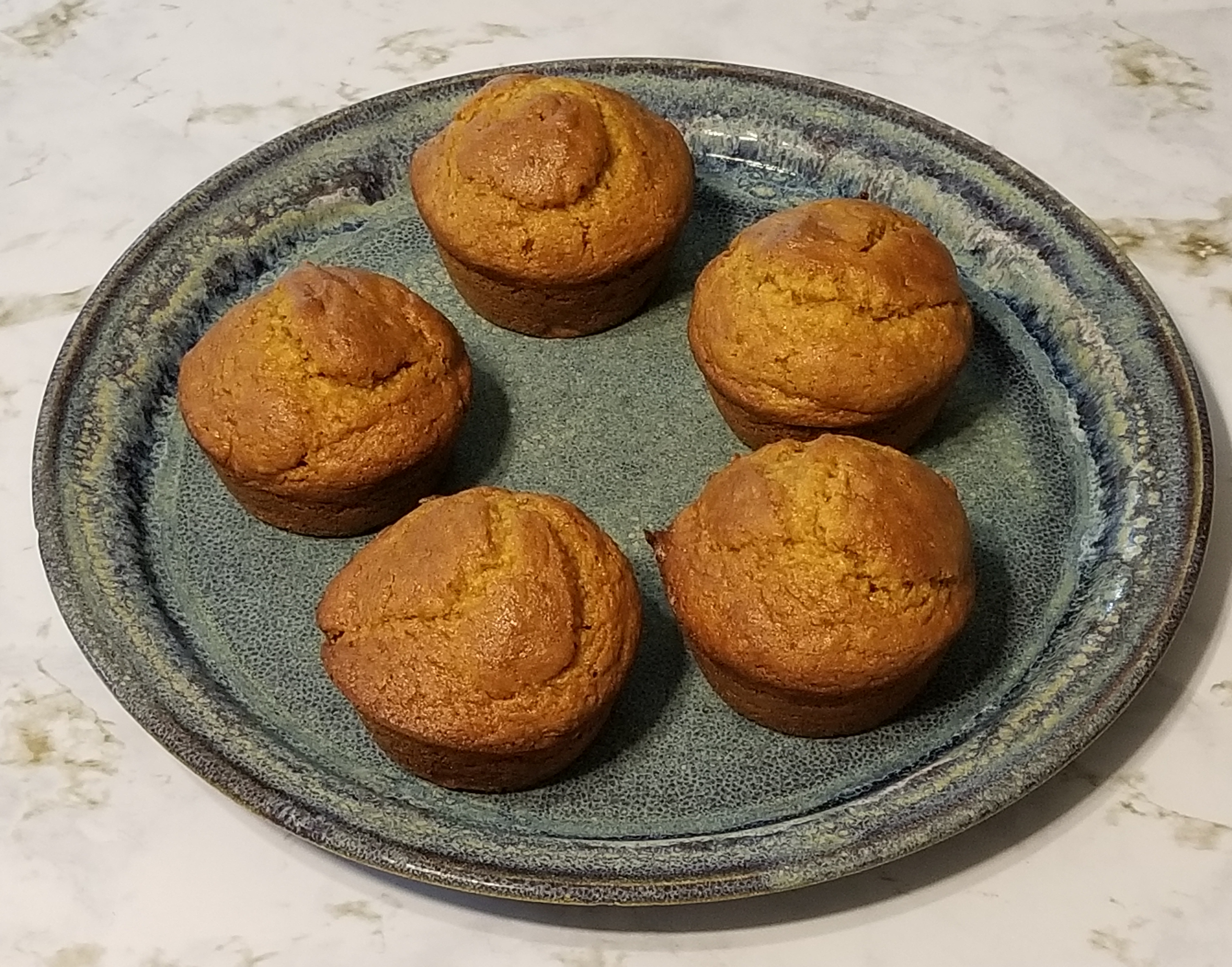 Of course, you could make these pumpkin muffins any time of year.   The pumpkin in them is not fresh – it comes from a can, or jar.  Generally speaking, this ingredient is readily available all year long, although you don't see giant end-cap displays of canned pumpkin except in the fall.  But I really like seasonally-appropriate baking:  during the spring and summer, I enjoy the abundance of fresh fruits available for muffins, snapping them up when they go on sale at the grocery store or put in their seasonal appearance at farm stands.  And, then when berries go out of season, pumpkin time has come again.  
There have been tense years in the past when canned pumpkin was hard to find.  It seems that most of the conventionally-grown pumpkin in the US is grown in Illinois. There have been instances in recent years where adverse weather in the area ruined significant portions of the pumpkin crop, so that ordinary canned pumpkin took on the allure of Kobe beef or Beluga caviar.  I'm not taking any chances: I always keep a few cans in the pantry, just in case.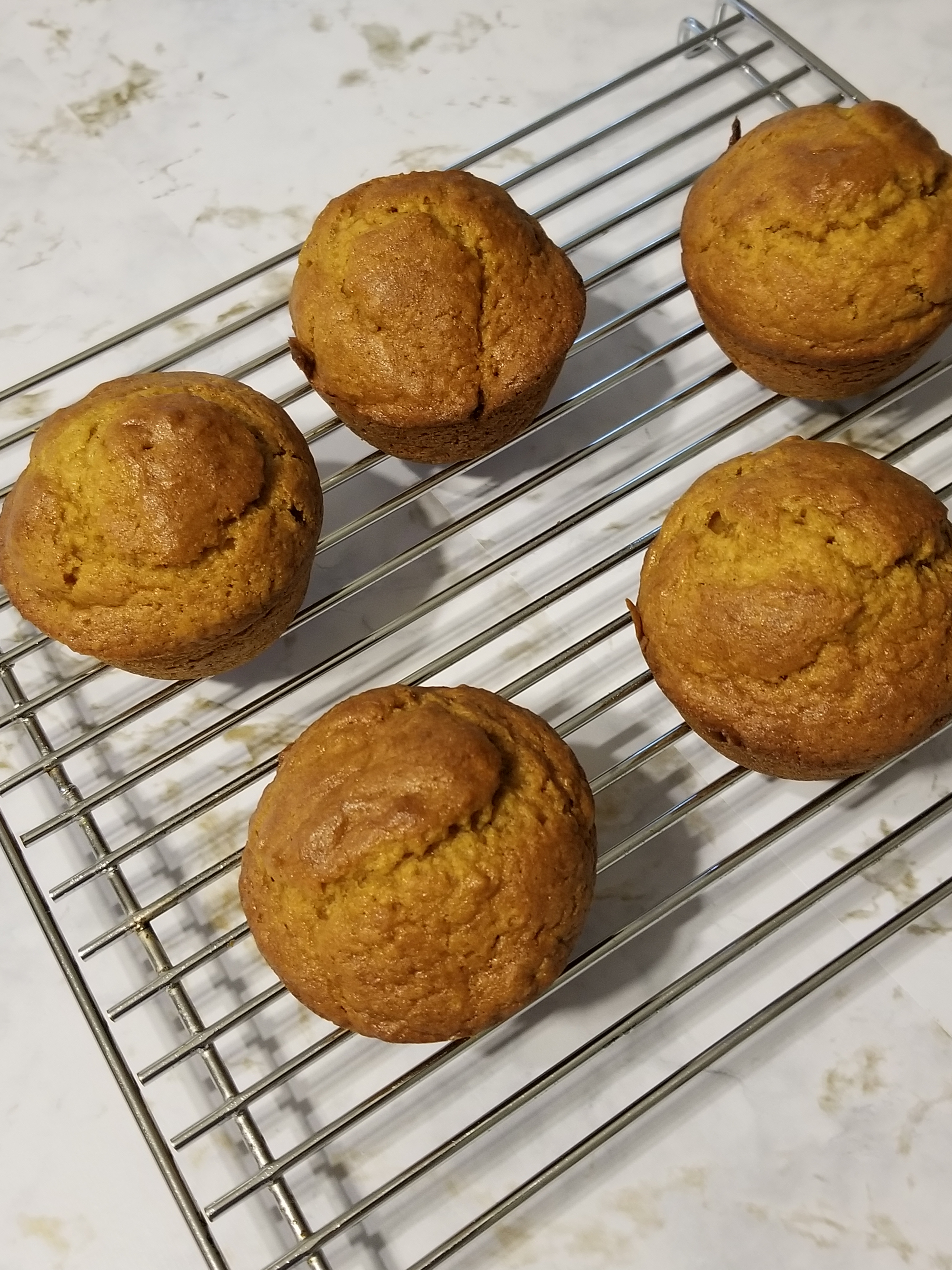 However, a 15-oz can of pumpkin is enough for two dozen muffins.  Rather than try to find a use for the other 3/4 of the can, I decided to try something different for this recipe – pumpkin puree is also sold as baby food, and a 4 oz jar is just right for a few muffins.  (The brand I used is Beech-Nut Organics Pumpkin.  Gerber sells a similar product, but my grocery store didn't have any, so I haven't tried it.)   Of course, if you have some canned pumpkin (also called "solid-pack pumpkin"), you can certainly use it:  weigh out about 3.5 oz (approx 1/4 of the can), and thin it with a tablespoon of water.  Canned pumpkin can also be frozen for later use; if you find yourself making these muffins regularly, you might want to go that route, as it's cheaper and generates less waste than buying lots and lots of little jars of baby food.  
Or if you really want to start from scratch, you can make your own pumpkin puree.  I can't really recommend this: I've only done it once, and it seemed like an awful lot of work carving and stewing up Cinderella's carriage just to produce something that seemed not-quite-as-good as canned pumpkin.  
It goes without saying (but I'll say it anyway), that "Pumpkin Pie Filling" is not a substitute.  Don't buy it.  Whatever you buy should contain only one ingredient:  pumpkin.
Whatever you use, I hope you will enjoy.  Even though they smell like pumpkin pie, these muffins have a distinctly un-pie-like texture: they expand greatly while baking to become light, tender, and moist.  Enjoy them for breakfast, or as a snack at any time of day.  They are a taste of fall on the plate, and a celebration of how the seasons roll around, again and again.
Notes
These  muffins are gluten-free.  If you don't want a gluten-free muffin, you can substitute regular white flour, or bread flour, or whole-wheat pastry flour (my personal favorite).  If you are not using gluten-free flour, you can leave out the xanthan gum.  I have never tried this recipe with cake flour.  
Fun fact:  pumpkins originated in the North America and have been cultivated for almost 10,000 years.  They are now grown on every continent except Antarctica.  They are part of such widely-diverse cuisines as Afgan, Italian, and Vietnamese.  
Another fun fact:  the word pumpkin comes from the Greek word "pepon" which means "big melon".
Inspiration
This recipe has evolved a lot over the years.  I started with the "Pumpkin Bread" recipe from The Fannie Farmer Cookbook.   It had an excellent flavor, but it called for a large amount of vegetable oil, and the result seemed slick and greasy to me.   I substituted thick applesauce for most of the oil, as is commonly recommended for lower-fat baked goods. I really liked the resulting taste and texture.  
The original recipe was for a large loaf.  Somewhere in my past, I remember reading that almost any quick bread recipe can be converted to make muffins instead; I no longer remember where I read this, but I'm firmly convinced that it's true.  I prefer muffins to loaves of quick breads, as the loaves tend to crumble when sliced, and become stale if not quickly consumed.  A muffin, pre-portioned, and crumb-free, just seems like an easier and better solution.  
Making the recipe gluten-free was a no-brainer.  Half-sizing it took a little research; I don't like recipes that call for fractions of canned goods, as I hate waste and always feel like I need to find a use for the rest of the can.   It just seems wrong to open a can of pumpkin and throw most of it away.   My glee in finding pumpkin puree in the exact size I was looking for was all out of proportion to the achievement itself.