My ideal weekend starts with a lazy morning: reading, sipping tea and nibbling on a fresh pastry, all while lounging in a warm bathrobe.  But lazy mornings and fresh pastry are kind of a contradiction in terms:  someone has to get up early and actually make the pastry.   Probably my dream weekend involves a butler - a taciturn and early-rising servant who has a light hand with pastry and knows the proper way to brew tea.  Ah, fantasies!  
In real life, all is compromise:  sometimes I a reheat a muffin in the toaster oven.  Or Tech Support does the bakery run for donuts or pain au chocolat.    Recently I discovered clafoutis, which is so easy to make even a sleepy person can put it together.  It is also quick: I can throw one together in the time in takes to preheat the oven.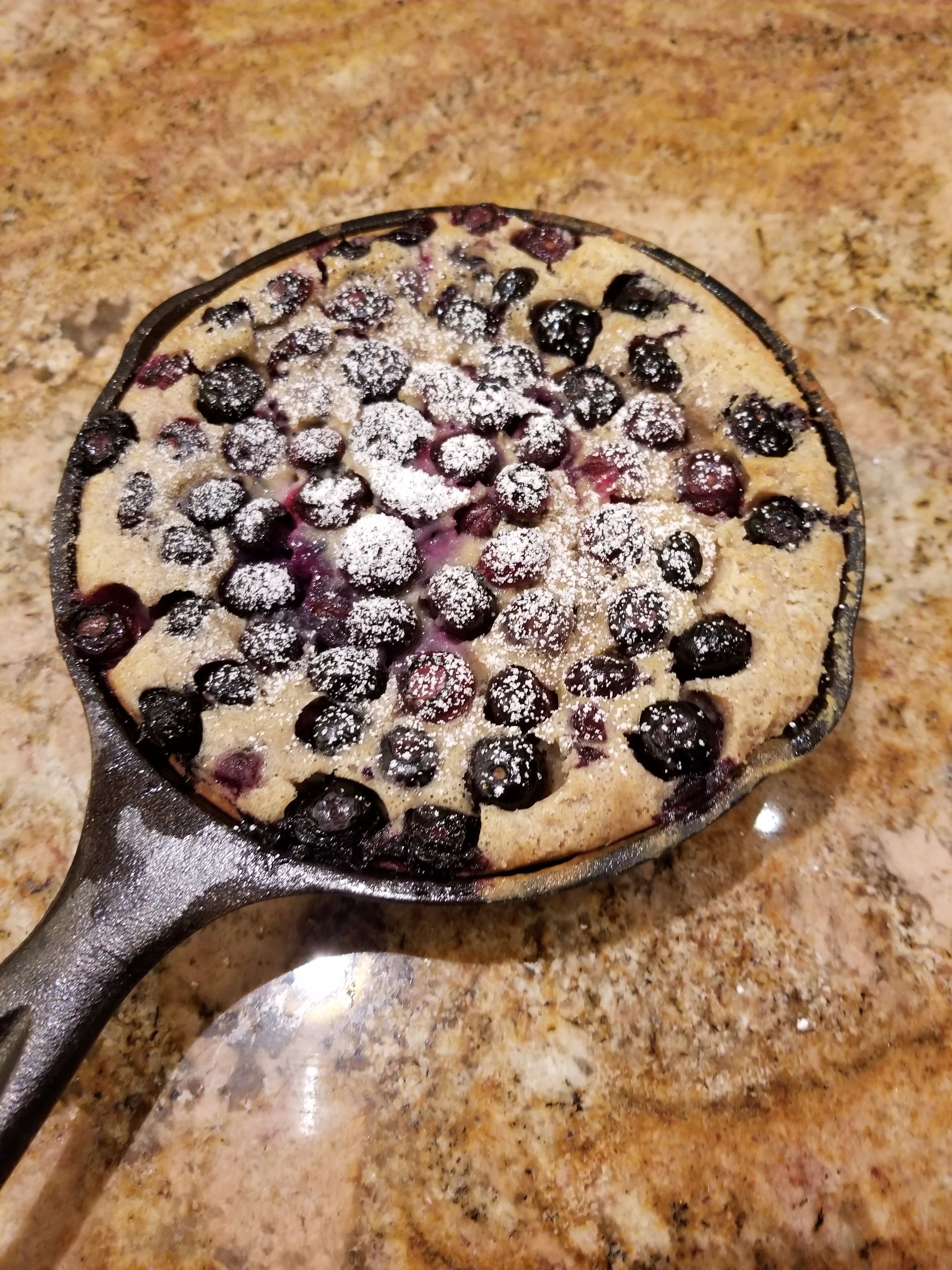 What is a clafoutis, anyway?   Something like a pancake, something like a coffee cake, it seems to be the French version of a "Dutch Baby".  This version is lightly sweet, with a generous amount of fresh fruit.   If you like a sweeter breakfast, remember its pancake-y roots and adorn it with a drizzle of maple syrup (maple is a beautiful complement to blueberries), or a fruit syrup, or a dollop of jam.  Or just go all-in and put some chocolate sauce right up there where it will do the most good.  
Notes
If you wish, you can omit the baking powder in this recipe.  Indeed, many would say that baking powder is not "authentic" in a clafoutis.  I won't argue with that - I suppose blueberries are not really authentic in a clafoutis either.  With baking powder, the dish will have an airier, more cake-like texture, which I prefer.  Without, it will be extremely close-textured.  Follow your heart.
Inspiration  
I first read about clafoutis in the Medium article Cast-iron Breakfast For Lazy People.  The author, Kim Duke, credited Amy Jo Ehman's Prairie Feast for the recipe, as well as the notion of serving this for breakfast.  I don't own Prairie Feast, but I can attest that Kim's recipe, as written, is delicious.  The serving size is listed as "Serves 4. But more than likely, 2."  I dunno...maybe I eat a smaller breakfast, but I found that it served at least four, and that the leftovers were not nearly as good as the fresh-from-the-oven version.  So I further tweaked Kim's recipe to downsize it and make it gluten-free.  I also changed the mixing method; Kim suggests using a blender or food processor to mix the ingredients, but I thought getting out and assembling the appliance was more work than just whisking the ingredients in a bowl, and the results seemed unchanged.