Apparently, I am nothing if not predictable.  When I mentioned the other day that I was looking at peach cobbler recipes, my daughter rolled her eyes and informed me that I do this every summer.   Every summer, I resolve to find a new cobbler recipe, more perfect than any I have made before.  This summer, the search may be over.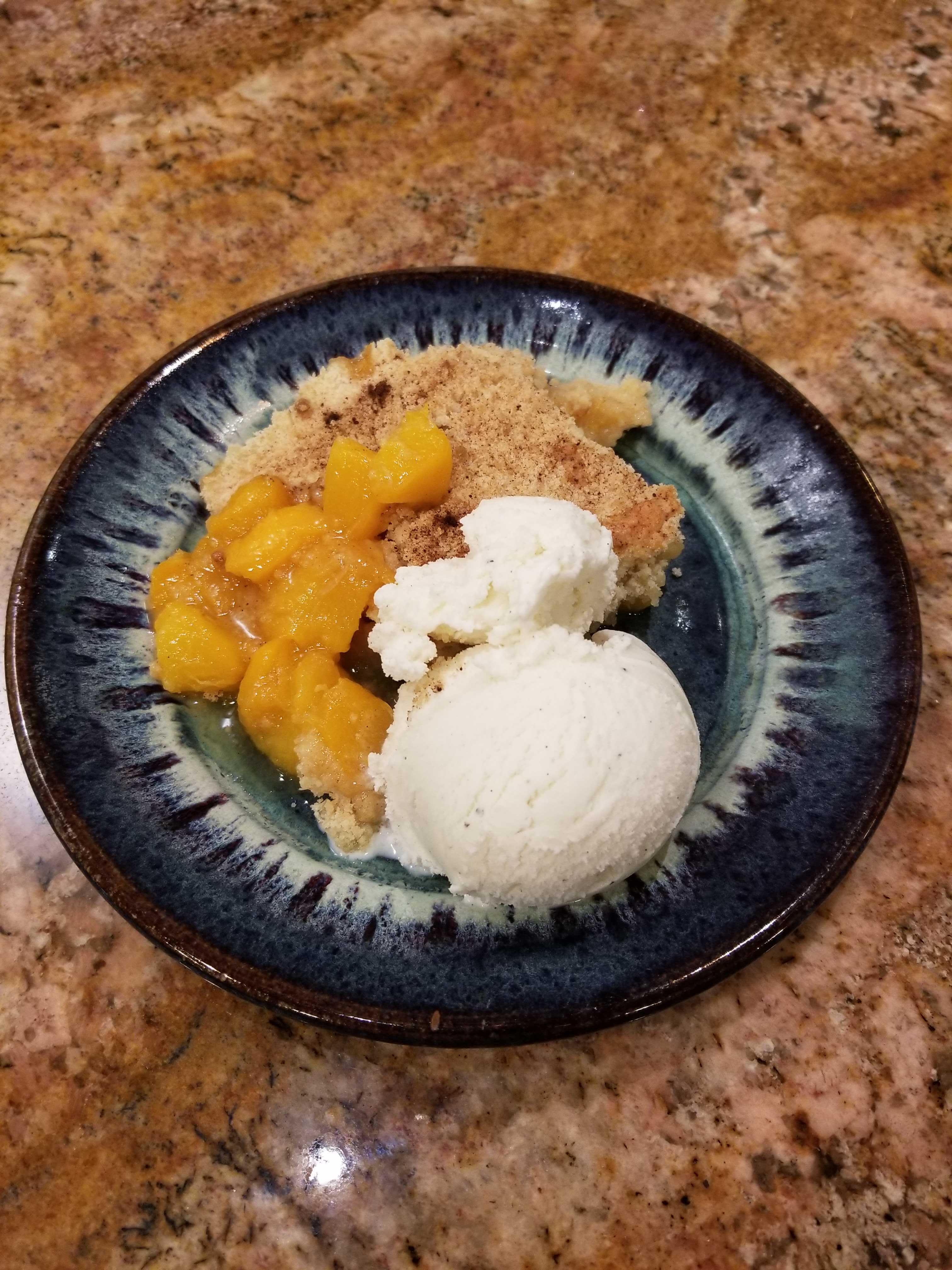 Cobbler has no very specific meaning in the dessert world.  Some versions have a biscuit top while others are more like deep-dish pie.  Still others have a crumb crust that is almost like a crisp.  Any of these can also be varied by putting the fruit up top, or down on the bottom.   With all the variations out there, why would I be looking for another one? Until now, none I have tried has seemed quite perfect.  Some recipes seem to add a lot of sugar to the fruit, but accompany it with a topping that is extremely plain and somewhat stodgy.  Others leave the fruit plain (and consequently quite tart) and create a very sweet topping.  Both types are prone to sogginess.   None seem to provide the balance of flavor, sweetness, and texture that  I look for in a satisfying fruit dessert.  
This version has fruit on the bottom, topped with a crumbly mixture that absorbs liquid and softens as it bakes.   The flavor of the pastry is sweet but not cloying, a nice textural component that leaves the peaches squarely in the limelight.  
Since it is such a simple recipe, I was able to create it in three sizes: the largest size will serve six people nicely or you could enjoy the smallest size all by yourself.   For the largest size, I used a standard 8 x 8 inch baking pan.  For the  middle size, I used a 6 inch round cake pan, but a 1 quart casserole dish would work fine also.  For the smallest size, I used a 400 ml ovenproof glass bowl that looks something like a giant custard cup.  
Notes
This dessert is gluten-free.  If you don't want a gluten-free version, just substitute regular or bread flour for the gluten-free flour.  You can also use self-rising flour in this recipe: just omit the baking powder and salt.  
Inspiration
This recipe journey started when I read "The best 3-ingredient peach cobbler recipe" from Mashed.   Sounds intriguing, right?  But leave it to me to make things complicated.  I never actually made the three-ingredient version of the recipe (one of the ingredients is cake mix, and I just don't go there.)  But Mashed also provided a more homemade version with pantry staples, and I tried that.  The basic premise of the recipe is that you put canned peaches and all their juice in a baking dish (9 x 13 in the original recipe), pour dry cake mix (or equivalent) over, and top with pats of butter.  The cake mix should absorb the syrupy liquid and butter, and turn into a cobbler topping.  Easy-peasey.  A child could down-size this recipe, I thought.
The results were...ok.  My captive tasters all finished their portions, but everyone agreed that there were not nearly enough peaches.  The crumbly topping was still mostly crumbs, and I thought I tasted undissolved baking powder here and there.  The outline of each butter pat was clearly visible; poor butter distribution contributed to the uneven texture of the whole.  All in all, it fell short of "... the easiest and best peach cobbler you've ever tried."
The sparsity of peach and dryness of the topping might both be improved by simply adding more peaches (and, consequently more syrup).  Curious about how much peach the original recipe actually had, I strained a can of peaches.  A 15 oz can has 1 1/2 cups of peaches, and almost 2/3 cup of liquid.  So, my 2 15 oz cans provided a total of 3 cups of peaches.  Betty Crocker (1950 edition) recommends 3 cups of peaches for an 8 x 8 pan of cobbler, or 6 cups for a 9 x 13 pan.  Other cookbooks (Fannie Farmer, Baking in America, Joy of Cooking) all agree on these proportions.  I decided to double the peaches for my next batch of cobbler.  
The butter distribution problem was easily solved by melting the butter and mixing it into the dry ingredients.  A minute or so of mixing produced a fairly uniform result.  
The resulting second batch of cobbler was much better.  All the tasters liked the texture of the topping (crisp on top, but more cake-like underneath), and a spoonful of cobbler had a satisfying amount of peach chunks.   The only improvement my family suggested was using fresh peaches, and I had to agree.  I have nothing against canned peaches, and will gladly use them when the brief season for fresh peaches is over.  But fresh peaches provide a depth and complexity of flavor that canned peaches simply cannot rival.
I knew dredging the peaches in sugar would draw out liquid and create the syrup I needed.  Consulting a few cookbooks again, I decided 1 cup of sugar per 3 cups of peaches was a good target for the recipe as a whole.  Since I was already putting about half that sugar in the topping, I added the other half directly to the peaches and allowed some time for a syrup to form.  (Interestingly, this proportion of sugar seemed to correspond closely with what was added to the peaches in canning.)   There was not enough syrup for the liquid I knew I needed, so I added water to top it off.  
The resulting cobbler has more than three ingredients.  But, it's still an easy preparation, and a deeply satisfying result!